Sh'ma Koleinu - A Selichot Service
Saturday, 4 September, 2021
•
27 Elul 5781
9:30 PM - 11:00 PM
New London Synagogue and Livestream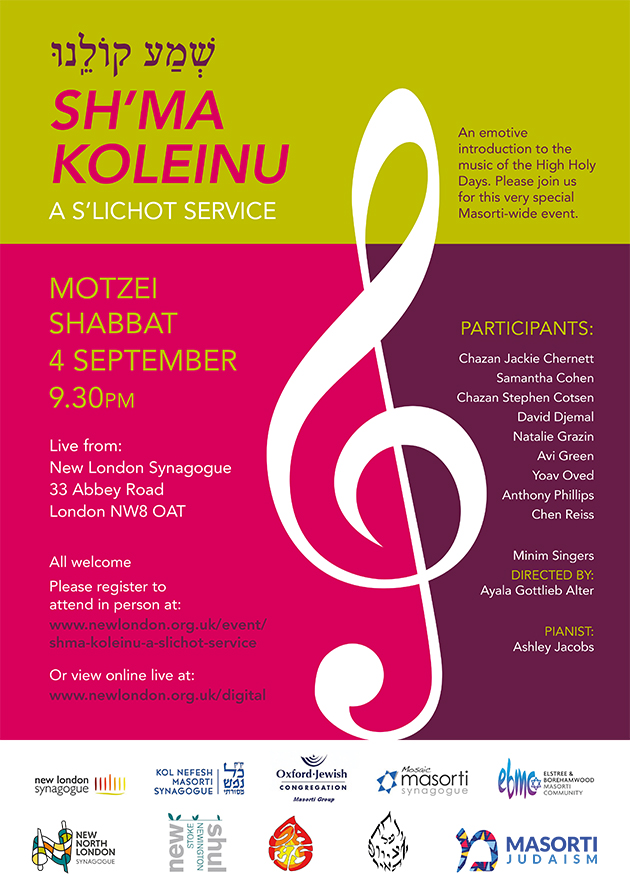 An emotive introduction to the music of the High Holy Days.
Please join us for this very special Masorti-wide event.
Participants
Chazan Jackie Chernett, Samantha Cohen, Chazan Stephen Cotsen, David Djemal,
Natalie Grazin, Avi Green, Yoav Oved, Anthony Phillips, Chen Reiss
Minim Singers
Directed by Ayala Gottlieb Alter
Pianist: Ashley Jacobs
Live from
New London Synagogue
View video at this link (Service starts approx. 20 minutes in)
Share Print Save To My Calendar
Thu, 16 September 2021
10 Tishrei 5782
Upcoming Programs & Events
---
This week's Torah portion is

Parshat Vayeilech
Shabbat Shuva
View Calendar
We are aware that there is an issue with this event listing and Shabbat info not updating and are working on it.
youTube
For our YouTube channel, click on our logo in the video above.
Download our app!
Search 'NNLS' in the iTunes App Store or 'New North London Synagogue' in Google Play. Contact the Synagogue Office if you need help logging in to your MyNNLS account.
Thu, 16 September 2021 10 Tishrei 5782