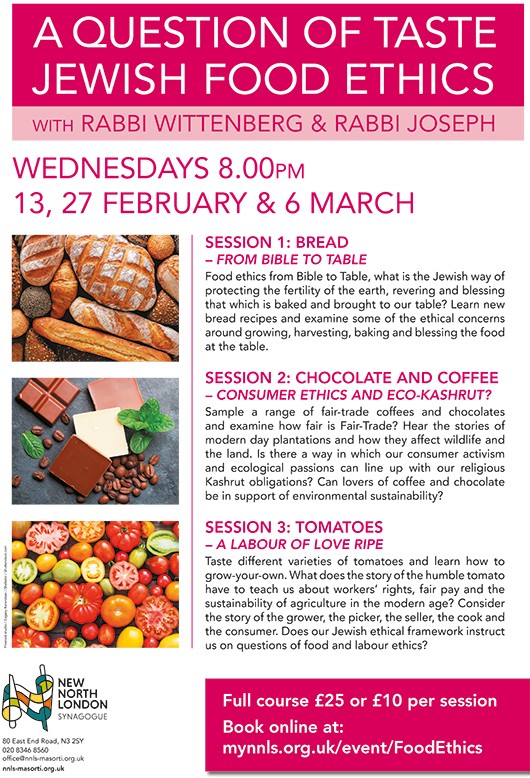 A Question of Taste - Jewish Food Ethics
Upcoming Sessions
1. Wednesday, 27 February, 2019 • 22 Adar I 5779
8:00 PM - 10:00 PM
NNLS
2. Wednesday, 6 March, 2019 • 29 Adar I 5779
8:00 PM - 10:00 PM
NNLS
Past Sessions
Wednesday, 13 February, 2019 • 8 Adar I 5779 -

8:00 PM - 10:00 PM

-

NNLS
A Question of Taste - Jewish Food Ethics
Wednesdays 13th, 27th February and 6th March at 8.00pm
With Rabbi Jonathan Wittenberg and Rabbi Oliver Joseph.
Session 1: Bread – from Bible to Table
Food ethics from Bible to Table, what is the Jewish way of protecting the fertility of the earth, revering and blessing that which is baked and brought to our table? Learn new bread recipes and examine some of the ethical concerns around growing, harvesting, baking and blessing the food at the table.

Session 2: Chocolate and coffee – Consumer Ethics and Eco-Kashrut?
Sample a range of fair-trade coffees and chocolates and examine how fair is Fair-Trade? Hear the stories of modern day plantations and how they affect wildlife and the land. Is there a way in which our consumer activism and ecological passions can line up with our religious Kashrut obligations? Can lovers of coffee and chocolate be in support of environmental sustainability?

Session 3: Tomatoes – a labour of love ripe
Taste different varieties of tomatoes and learn how to grow-your-own. What does the story of the humble tomato have to teach us about workers' rights, fair pay and the sustainability of agriculture in the modern age? Consider the story of the grower, the picker, the seller, the cook and the consumer. Does our Jewish ethical framework instruct us on questions of food and labour ethics?
Full course: £25 or £10 per session.
Please book below
Share Print Save To My Calendar
Sat, 23 February 2019
18 Adar I 5779
Today's Calendar
---
Upcoming Programs & Events
---
Parshat Ki Tisa
Shabbat Mevarchim & Parshat Shekalim
View Calendar
Sat, 23 February 2019 18 Adar I 5779